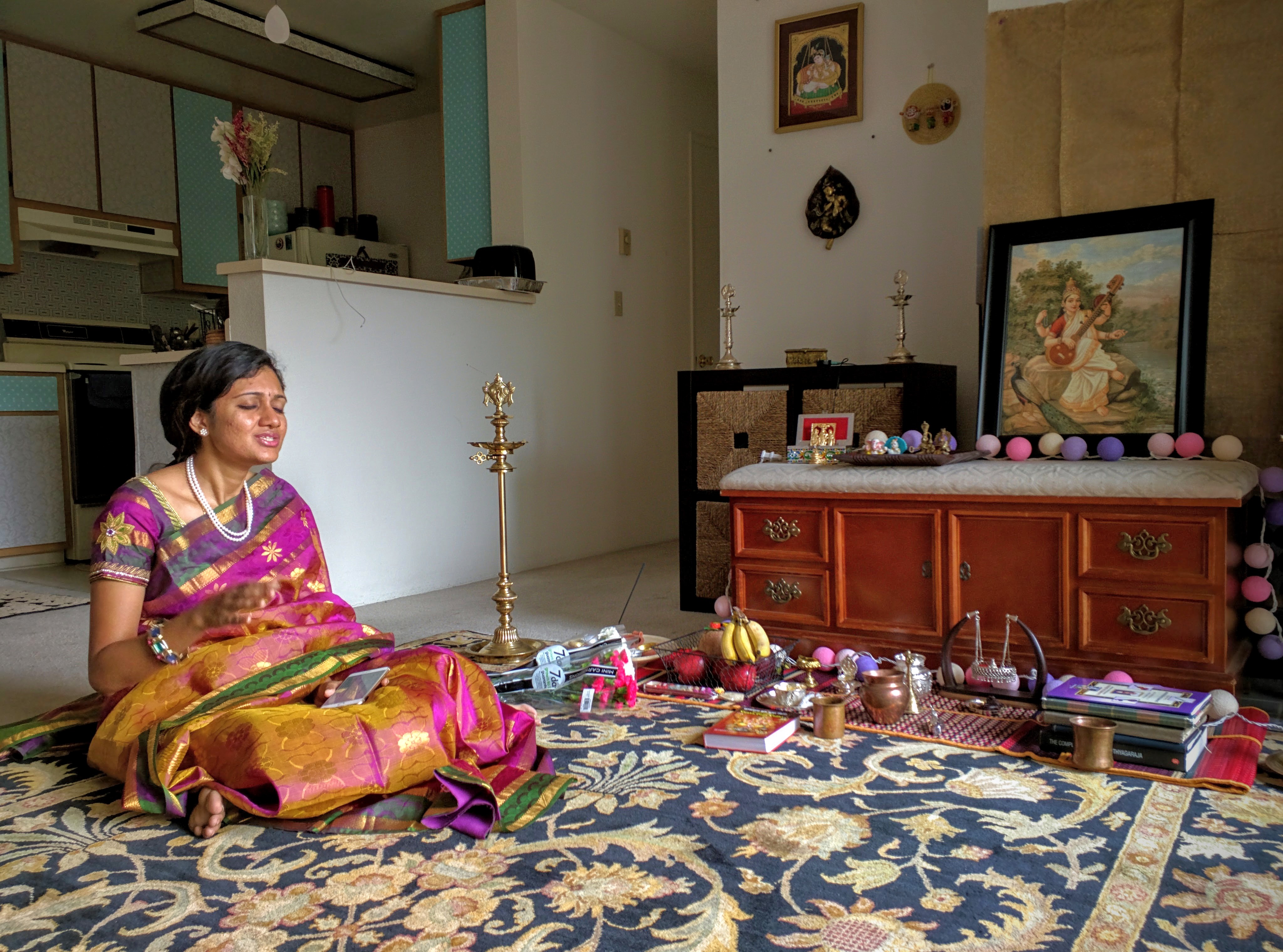 Born Lucky - A musical family
I was born into a musical family. My mother is a professionally trained Carnatic singer - a disciple of the distinguished, Shri TV Gopalakrishnan. She didn't pursue her musical career for many reasons, one of which was us, her children.
My first guru - a role model
My mother was my first and most important guru, training me for over eight years. I wasn't her exclusive student. She taught untiringly, in a manner that kept people pouring into her tutelage. Anyone who knows her will agree that she set the best example for me. She was the best teacher I knew.
The gurukul at home
I grew up in a gurukul-like setup. I would come back from school, quickly grab a snack, before students started pouring in eagerly, way ahead of their class times. While 20 students in a batch would sing their lungs out, at least 10 others would hang out with my sister and I, happily sitting on the sidelines of ongoing batches. Through the course of the evening, the average student age would increase from 10 to 45.
Classes were an everyday affair. We'd learn Monday through Friday - no days-off in between, not that we felt any need for one. That was the sort of training that made progress a norm. Mridangist Shri Vaikom Gopalakrishnan would occasionally sit in on our classes, putting us in quite the spotlight.
Concerts and the Stage Life
Singing with my school music troupe was inevitable. I participated in competitions, interacted with musicians, and performed on stage. The best opportunity was singing at Music Academy for a New Year, alongside Sudha Raghunathan, Unnikrishnan, and S. Sowmya. TM Krishna was then at the helm of the Youth Association for Cultural Music (YACM). A recent memory is meeting Shri Nithyashree Mahadevan, the gentlest soul for all her greatness! Getting recognition and feedback from her was unforgettable.
Formal musical education
Certified by the Berklee College of Music and the California Institute of Arts.
Foray into Indian film/ light music
I started singing Indian film music with our consistently award-winning music troupe in college, with an extremely talented bunch of musicians, many of whom are now sought-after in either the Carnatic scene or the film industry. This opened my mind to new possibilities, giving a 101 on musical instruments and educating me on voice culture and dynamics. This took me to college stages, the thrill of entertaining young crowds, the adrenaline and energy, spotlights, TV shows and competitions - shooting, many many retakes, media interaction. A few vignettes from that phase are on my Soundcloud channel.
Tough choices: Music vs 6-digit salary
At a tough crossroads between music and an engineering major, I chose the latter. Higher education brought me to the US. I went on to work in New York city, right by Central Park, living the good life. But not doing music as much as I wanted, started nagging me, little by little, until I had to make a hard decision. I took the call to take the plunge. Here I am, a full-time music teacher, student, and singer in some sense. It's a very rewarding life!
Carnatic & Hindustani Guru-s
Hindustani: I trained under Shri Kuldeep Kumar Sagar for two years. I continue to learn from National Award winner Shri Mahesh Kale, a disciple of legend, Pandit Jitendra Abhisheki.
Carnatic: I have been continuing my musical training under Kalaimamani KN Shashikiran.